About Malaysia
(Text for this page were abstracted from http://www.tourism.gov.my)
Malaysia
The Federation of Malaysia comprises of Peninsular Malaysia, and the states of Sabah and Sarawak on the island of Borneo. Situated between 2º and 7º to the North of the Equator line, Peninsular Malaysia is separated from Sabah and Sarawak by the South China Sea. In the northern part of Peninsular Malaysia lies Thailand, and in the south, neighbouring Singapore. Sabah and Sarawak are bounded by Indonesia while Sarawak also shares borders with Brunei.

Area : 329,758 square km | Population: 28.3 million | Capital city: Kuala Lumpur
People & Language
Ethnic Malays comprise 57% of the population, while Chinese, Indian and other races make up the rest of the country's population. While Malay is the national language and many ethnic groups also converse in their various languages and dialects, English Language is also widely spoken. Islam is the official religion of the country, but other religions such as Buddhism and Christianity are widely and freely practised.
Currency
The monetary unit of the country is Ringgit Malaysia and is written as RM or MYR. The exchange rate is valued at USD1 = RM4.12. Notes are available in RM1, RM5, RM10, RM20, RM50, and RM100 denominations, while coins are issued in 5, 10, 20 and 50 sen (cents) denominations. Foreign currencies can be exchanged at banks and money changers. View the latest exchange rates at www.xe.com.

Weather
The country experiences tropical weather year-round. Temperatures range from 21ºC (70ºF) to 32ºC (90ºF). Higher elevations are much colder with temperatures between 15°C (59°F) to 25°C (77°F). Annual rainfall varies from 2,000mm to 2,500mm. However, the wettest parts of Malaysia could well be the hill slopes of Sarawak's inland areas, which receive a mean annual rainfall exceeding 5,000mm.

Practicalities
Time
Eight hours ahead of GMT and 16 hours ahead of U.S Standard Time.

Electricity
Voltage is 220 - 240 Volt AC at 50 cycles per second. Malaysia uses standard 3-pin square plugs and sockets.

Weight & Measurement
Malaysia follows the metric system for weight and measurement.

Telecommunications
Local calls can be made from public phones using coins or prepaid card. International calls can also be made using phone cards or at any Telekom office.
IPOH
(Information extracted from Ipoh Tourism Board Official Website: http://www.ipoh-city.com/)
Ipoh City, is malaysia third largest city in the country with a population of over 710,000 people and a gateway to the Cameron Highlands ( Coordinates: 4"36'N 101"04'E / 04.60"N 101.07"E / 04.60; 101.07). Ipoh is the capital city of Perak state on the west coast of peninsular Malaysia. There are 5 nicknames for ipoh: The Town Built on Tin and City of Millionaires referring to the vast fortunes made during the boom of the tin-mining industries. Affectionately called Paloh till today by the local Chinese, referring to the gigantic mining pumps used for early tin ore extraction. The Bougainvillea City referring to Bougainvillea as the symbol flower of the city. The Hill City referring to Ipoh being central and surrounded by hills. But now most the people called Paloh and The Hill City became a town name.
Ipoh cities into the turn of 19th century to developed the booming tin-mining industry propelled the sleepy town into the height of its glory peaked in the 1950s when during the British colonial era. Architecturally, the city centre is characterized by colonial era Chinese shop houses and several impressive historical buildings from the British Colonial era such as the Railway Station, the Town Hall and the Court House. At the 1970s the economical of tin-mining industry of pricing collapse and the city's growth stagnated tin mines were closed. The booming tin mining industry of ipoh story was thus brought to a close (1970s).
On 27 May 1988, it was granted city status by the Sultan of Perak, Sultan Azlan Shah. It is divided naturally by the Kinta River into two main townships - Ipoh Old Town and Ipoh New Town. The old town contains older and pre-war architectures comprising government buildings, shop lots, residences and historical landmarks. So a very large of the historical buildings still existence and function.
Now, ipoh cities was a famous foods counties. Folks from all over the country regularly flock to Ipoh to taste historical landmarks of ipoh old town white coffee, succulent pomelos, fluffy kaya puff, ipoh's famous salted chicken, bean sprouts and chicken, hong kong dim sum, Lor Mai Kai, Taro Puff, Char Siew Bao, Egg Tarts, Fried Glutinous…and so on.
Top 6 Attraction In Ipoh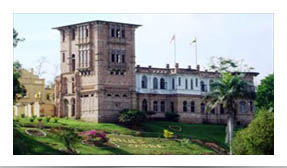 Kellie Castle - Forty kilometres south of Ipoh along Jalan Raja Nazrin Shah (Jalan Gopeng) stands Kellie Castle. William Kellie Smith, an English rubber planter, commissioned this Moorish style mansion in 1915. In th emiddle of construction, he left for England where is died in 1926 and the mansion was never completed. It is believed that it has hidden rooms and a secret tunnel.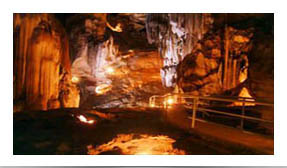 Gua Tempurung - Like the adventure friends can try to climb this mother caves, this is largest limestone caves in Peninsular Malaysia. Located near Gopeng, just 24km south of Ipoh, the cave is nearly two kilometres in length. Made up of five huge domes, the well-lit interior boasts elegant formations of stalactices and stalagmites. A guided river or non-river adventure tour can be arranged.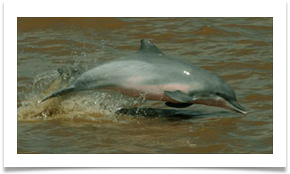 Kuala Sepetang - Just about 60 minutes or 72km/45miles to the north-west of Ipoh city to Kuala Sepetang. Kuala Sepetang (Fishing Village) was beautiful at night due to its colony of fireflies. Other attraction like bird watch, dolphin watching, visit mangrove forest & visit charcoal factories.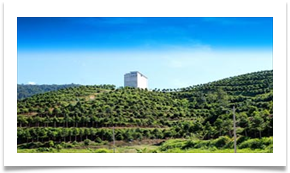 Gaharu Tea Valley - Gaharu tree or also known as wood of the Gods, is well known for its medicinal value since ancient times, including its tea, incense and perfumery products.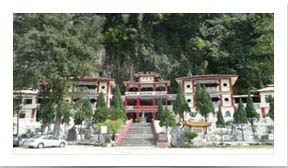 Buddha statues - Set in the caves of Gunung Tasek, it was built in 1926 by a Buddhist monk from China. It now houses 40 Buddha statues, the centrepiece being a 12.8 metre status of a sitting Buddha. Beyond the main altar is a passage leading into the interior.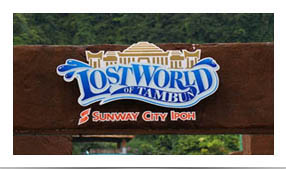 Lost World - The exciting water theme park in Tambun features a wave pool, natural hot spring, tube slides and also features a petting zoo. Ideal of family fun with young children.